Editor's note: "Not So Wild West" is the fifth of a seven-part series previewing the 2009 MLB season. Part Four, "Wins Beneath Wings,"spot-lighting the AL West is below. Parts One and Two, spot-lighting the NL and AL East Divisions were published Monday, March 30. Part Seven, covering season awards and postseason berths will be published Monday, April 6.

For much of this decade, the NL West has come down to which team was the least crappy in a pool of crappy teams. The division houses what will probably be the worst team in baseball this year in the Padres, but at least things aren't QUITE as bad as usual at the top of the division where I went back and forth about 50 times on who to put No. 1 before finally deciding on...


1. Los Angeles Dodgers

Figures:
84-78, first place, lost to Phillies in NLCS
.
2008 Headline:
 Welcome to Mannywood.
2009 Motto:
This one's for you, Jeff Kent
.
COMINGS AND GOINGS
Key Additions:
 RP
Guillermo Mota
, C
Brad Ausmus,
RP
Claudio Vargas
, INF
Mark Loretta
, SP
Randy Wolf
, RP
Will Ohman
, 2B
Orlando Hudson
.
Key Losses:
SP
Brad Penny
(to BOS), RP
Takashi Saito
(to BOS), SP
Derek Lowe
(to CHC), CF
Andruw Jones
(to TEX), 2B
Jeff Kent
(retired), SP
Greg Maddux
(retired), SS
Angel Berroa
(to NYY), INF
Nomar Garciaparra
(to OAK), SP
Chan Ho Park
(to PHI), RP
Scott Proctor
(to FLA), INF
Pablo Ozuna
(to PHI)
The biggest difference between the Dodgers and Diamondbacks can be summed up with one word -
Manny
. The Dodgers bringing back
Manny Ramirez

ma

kes them a contender. 

Matt Kemp

needs to improve his plate discipline, but if his power develops like the Dodgers hope it will, he'll be a 30-30 guy before too long.

Andre Ethier

is as solid a hitter as they come and can be penciled in for a .300/20/80 season.

Russell Martin

needs some rest,

but I'm not sure if the signing of

Brad Aumus

will allow him to take many more days off than he already was.

Orlando Hudson

was a great, unheralded pickup. 
There are a lot of questions about this staff. The loss of Brad Penny won't hurt, but losing Derek Lowe definitely will. The Dodgers have been good about limiting the innings of their young pitchers, but
Chad Billinglsey
and
Clayton Kershaw
may be asked to shoulder a lot of the load this season. Billingsley looks ready for the challenge, but I'm not so sure about Kershaw.
Hiroki Kuroda
quietly had a solid rookie season. This will be the year that either continues to improve, or hitters figure him out and he gets abused. The team has to be careful not to rely too much on oft-injured
Randy Wolf
, who was decent last year for the Padres, but made at least 20 starts for the first time in a season since 2004.
Jonathan Broxton
finally gets a shot to close after a few seasons of watching
Takashi Saito.
He has the skills for it, the only question is if he has the mental makeup for it.
Hong Chih-Kuo
was one of the better middle relievers in baseball last season and
Cory Wade
proved his mettle for the Dodgers down the stretch. The Dodgers brought back some blasts from the past in
Guillermo Mota
and
Jeff Weaver
to see if there's any gas left in the tank. Was there any gas in Weaver's tank to begin with?
If the Dodgers can get someone to take

Juan Pierre

off their hands, they should jump at the chance.
What high ranking MLB official does

Jeff Weaver

have naked pictures of? I can't understand how he keeps getting teams to take a chance on him.
2. Arizona Diamondbacks
THEN AND NOW
Figures:
82-80, second place
.
2008 Headline:
 Growing Pains.
2009 Motto:
Aren't they supposed to stop at some point.
COMINGS AND GOINGS
Key Additions:
 2B
Felipe Lopez
, SP
Jon Garland
, RP
Scott Schoenweis
, RP
Tom Gordon
.
Key Losses:
SP
Randy Johnson
(to SF), 2B
Orlando Hudson
(to LAD), OF
Adam Dunn
(to WAS), RP
Brandon Lyon
(to DET), RP 
Juan Cruz
(to KC), INF
Chris Burke
(to SEA)
David Eckstein
(to SD)
.
MARKS AND REMARKS
Just like the Dodgers, the D-Backs have a lot of young talent here, but there's no superstar, there's no Manny.
Stephen Drew
's career trajectory shows that he should continue to improve this season and may become a 25-30 homer guy. The team is waiting for other youngsters like
Conor Jackson
,
Justin Upton
and
Chris Young
to break out. The team's hopes hinge largely on whether these guys can show the potential that scouts across baseball think they have.
Mark Reynolds
is a pretty average hitter, but he surprisingly provided the team with some much needed power last year (29 homers).
This is what will keep the D-Backs in the playoff hunt if the young hitters fail to take that next step forward. Arizona is one of the only teams in baseball that can make a legitimate claim to having two bonafide aces on its pitching staff.
Brandon Webb
and
Dan Haren
are two excellent, reliable pitchers who you can pretty much lock in for 16 wins and an ERA in the low 3's. The team is hoping for big things from 2006 first round pick
Max Scherzer,
who earned the 5th spot in the rotation.
The bad news is that new closer
Chad Qualls
has been in the bigs for five years and has almost no experience as a full-time closer. The good news is, he can't possibly be any worse than
Brandon Lyon
was last season.
Scott Schoeneweis
was a decent pickup.
Tony Pena
and
Jon Rauch
are middle-of-the-road bullpen fodder who will be asked to step up and get the ball to Qualls in the 8th.
ODDS AND ENDS
So far,

Stephen Drew

has done a good job of NOT mirroring the career of his brother J.D. He stays healthy, keeps quiet and goes about his business.

Arizona better hope they get something out of all this young talent they have before these guys grow up and become Yankees.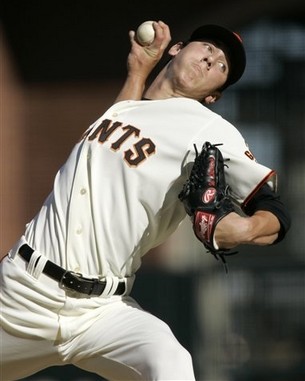 3. San Francisco Giants
THEN AND NOW
Figures:
72-90, fourth place
.
2008 Headline:
 We could have probably used Barry Bonds.
2009 Motto:
 In Lincecum we trust.
COMINGS AND GOINGS
Key Additions:
 SP
Randy Johnson
, INF
Juan Uribe
, SS
Edgar Renteria
, RP
Jeremy Affeld
t.
Key Losses:
 SS
Omar Vizquel
(to TEX), P
Brad Hennessy
(to BAL)
MARKS AND REMARKS
The Giants' problem last season was excellent pitching with a horrible offense and their offseason moves didn't do much to change that. It's never a good thing when you're looking to
Edgar Renteria
to provide pop for your offense. Everyone but
Brian Sabean
seemed to realize that
Aaron Rowand
was going to end up being a terrible signing. There's some young talent here with potential (
Fred Lewis, Pablo Sandoval).
The sooner they get rid of the
Randy Winn
's and
Bengie Molina'
s, the better.
This unit will keep the Giants from being the worst team in the division. Tim Lincecum only needed one full season to become the best pitcher in baseball. Matt Cain is a great young pitcher who got no run support and was overshadowed by Lincecum's dominant season. Expect improvement from Jonathan Sanchez and it can't hurt to have Randy Johnson on your staff, especially when he's not being counted on to anchor it.
Brian Wilson
's sub-4 ERA would indicate that he's not a very efficient pitcher, but somehow he ended up with 41 saves last season. Don't count on that happening again.
Jeremy Affeldt
was a good addition. They have a lot of solid veteran depth here, but nobody that really jumps out at you.
ODDS AND ENDS
Why did this team sit by and let

Manny Ramirez

stay in Los Angeles? Despite how terrible this lineup is, they might be the favorites in this division if they had signed Manny.

In this day and age when pitchers seem to get torn labrum's simply getting out of bed, the Giants have to be careful not to work the 25-year-old Lincecum, who pitched 227 innings last year. He is the best player on the team, but don't ride him too hard and make him another cautionary tale.

On another Lincecum note, he has the best commercial on TV right now.
4. Colorado Rockies
THEN AND NOW
Figures:
74-88, third place
.
2008 Headline:
 Wait, this isn't what happens the year after you make the World Series, is it?
2009 Motto:
 Wait, this isn't what happens two years after you make the World Series, it it?
COMINGS AND GOINGS
Key Additions:
 RP
Huston Street
, SP
Josh Fogg
, SP
Jason Marquis
, RP
Alan Embree
, RP
Matt Belisle
.
Key Losses:
 OF
Matt Holliday
(to OAK), OF
Wily Tavares
(to HOU), RP
Cory Sullivan
(to NYM), RP
Matt Herges
(to CLE), RP
Brian Fuentes
(to LAA), SP
Livan Hernandez
(to NYM).
MARKS AND REMARKS
Even without
Matt Holliday
, this lineup should still do plenty of mashing. There are a handful of guys here who could all hit 20-30 homers.
Chris Iannetta
had a breakout season and the Rockies are hoping for the same thing from leadoff man
Ryan Spilborgh
s
. Anything they get out of
Todd Helton
is a bonus.
Aaron Cook
is a solid starter and a bit of an oddity, because I can't off the top of my head think of another starter who can log 200 innings a season without tipping the century mark in strikeouts, but Cook does it, and in Colorado no less.
Ubaldo Jimenez
is good and young but there's a lot of unproven pitchers behind them, aside from
Jason Marquis
, who has only proven that he completely sucks.
Huston Street
has all the tools if he can ever just stay healthy. It's a big IF for him.
Manuel Corpas
lost out to Street for the closers job last year, but it's probably for the better as he was extremely shaky last season and would probably be better off served in a setup role.
ODDS AND ENDS
How would you like to be named

Ubaldo

? Or

Yorvit

?

Todd Helton

's goatee. is as thick as ever, but his bat isn't. Colorado is going to have to part ways with him and find his replacement sooner than later.
5. San Diego Padres
THEN AND NOW
Figures:
63-99, last place
.
2008 Headline:
 Yes, we have Adrian Gonzalez.
2009 Motto:
 New promotion: Buy a dog toy at Petco and get a free ticket to the ballpark.
Key Additions:
 2b
David Eckstein
, OF
Cliff Floyd
, C
Henry Blanco
.
Key Losses:
 SS
Khalil Greene
(to STL), C
Josh Bard
(to WAS), C
Michael Barrett
(to TOR), CL
Trevor Hoffman
(to MIL).
MARKS AND REMARKS
You've got
Adrian Gonzalez
and not much else. Gonzalez has actually transformed himself into one of the elite first baseman in the game without much fanfare.
Jody Gerut
turned out to be a solid find for the Padres after his career seemed to be fizzling the past couple of years.
Kevin Kouzmanoff
provides some pop, but virtually nothing else. The Padres are apparently going to squeeze every last bit of usefulness out of
Brian Giles
.
Everything here hinges on the health and ability of
Jake Peavy
and
Chris Young
. The bad part for Pads fans is the better Peavy pitches, the more likely he is to be traded. So they need to just accept that they're destined to suck this year. The rest of the starters are all young and unproven.
Exit

Trevor Hoffman

and his 554 career saves, Enter

Heath Bell

. Don't fret Padres fans, Bell is going to be a very good closer, the only problem is everyone else in the bullpen. The only arms there to get Bell the ball in the ninth are inconsistent pitchers like

Cla Meredeith

or journymen like

Duaner Sanchez.
Why the hell did the Padres sign

David Eckstein

? Why the hell does anyone sign

David Eckstein

?

When Peavy is inevitably gets traded and Chris Young inevitably goes on the DL, this team is going to have the worst rotation in all of baseball.

Don't most bad teams have good farm systems? Doesn't getting high draft picks let you restock your farm system with plenty of top flight talent? So why do the Padres have the 29th ranked farm system in all of baseball? (according to Baseball America). Tough times to be a Pads fan.