There shouldn't be too many surprises in the NL East this year. After battling with the Mets for control of the division last season, expect Philadelphia to win it much more easily this year. They're still the class of the division, but the Mets aren't TOO far behind. A lot of people are expecting a playoff push from Atlanta. While they have a good offense, it isn't as good as the Phillies or Mets offenses, and they have a good pitching staff, but not as good as the Mets'. Better luck next year. Also, expect the Nationals to still suck, although maybe a little less. At least the Marlins will be there to keep them company in the dumpster.
1. Philadelphia Phillies
THEN AND NOW
Figures:
92-70, first place, defeated Tampa Bay Rays in World Series.
2008 Headline:
"World champions... WORLD FUCKING CHAMPIONS!" - Chase Utley
2009 Motto:
"Hey, someone wake up Jamie Moyer, the game's about to start" - Chase Utley (I'm sure he'll say it at SOME point)
COMINGS AND GOINGS
Key Additions:
P
Chan Ho Park
, OF
Raul Ibanez
Key Losses:
OF
Pat Burrell
, P
Adam Eaton
, 2B
Tadahito Iguchi
MARKS AND REMARKS
Lineup: A-
The Phillies smashed a league-high 218 homers in 2008 and you would be foolish to expect much of a difference this year. The only change in the lineup for the defending champs is

Raul Ibanez

replacing

Pat Burrell

. Ibanez is a criminally underrated player who won't provide the power Burrell does, but will be good for a .290/.350/.470 season with about 20 homers and 100 RBIs. If

Chase Utley

has gotten over the hip problems that have troubled him for much of the offseason, he should have another MVP caliber season. Last year,

Jimmy Rollins

had his worst season in about three years and they were still the best team in baseball. It's scary to think how good they could be if he returns to his 2007 form. And to top that all off..

CARLOS RUIZ

!!..Ok, maybe not.
Pitching rotation: C

Everything here begins and ends with
Cole Hamels
. This staff will only go as far as his left arm can carry them. The rest of the rotation is solid, but not spectacular.
Joe Blanton
has enjoyed a bit of a career boost since being acquired from Oakland and is a dependable starter for the Phils just as
Jamie Moyer
is.
Speaking of career boosts,
Brad Lidge
went from complete embarrassment to best closer in baseball with a perfect season in 2008. Don't expect another perfect season, but don't expect much of a drop off either. Lidge is clearly at the top of his game right now and leads one of the best bullpens in baseball along with the lefty/righty setup combo of
J.C. Romero
and
Ryan Madson.
ODDS AND ENDS
Father Time is apparently running in quick sand, because he has been chasing

Jamie Moyer

for about 15 years and still hasn't caught him. Don't expect this to be the year.


Brett Myers

is a complete tool, but for some reason he dominated last year in August(4-1, 1.65 ERA, 42 K's) and sucked pretty much every other month

Ok, seriously.. who is

Carlos Ruiz

?


Chase Utley

is not only a great player, but apparently a budding fashion icon as well.

22-year-old farmhand

Carlos Carrasco

might play a big part in the Phillies season if he can step up at some point as the #5 starter, assuming

Chan Ho Park

doesn't lock up that spot (and I think that's a safe assumption).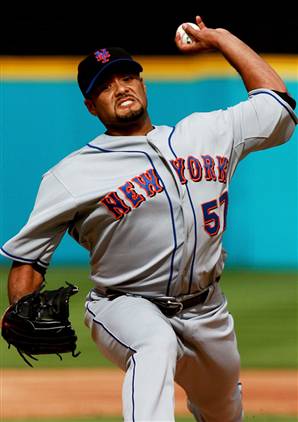 2. New York Mets
THEN AND NOW
Figures:
89-73, second place.
2008 Headline:
 Just wait until we get that new stadium next year!
2009 Motto:
 The second best team money can buy.
COMINGS AND GOINGS
Key Additions:
P
Francisco Rodriguez
, P
J.J. Putz
, P
Freddy Garcia
Key Losses:
OF
Endy Chavez
(to SEA)
, P
Aaron Heilman
(to CHC)
, P
Scott Shoenweis (to ARI) 
2B
Pedro Martinez
(FA)
.
Lineup: B+
On the heels of two consecutive September collapses, the Mets will hope the brand new Citi Field brings a little better luck with it.
Jose Reyes
had a better offensive season in 2008 than he did the year before, but came up small down the stretch when the Mets needed him most.
Carlos Beltran
is as solid as ever and
David Wright
is getting better by the season, but the Mets would be fools to expect another 38 homer, 115 RBI season out of
Carlos Delgado
. If he falls back to earth this season, the Mets are going to need to pick that production up from somewhere else in the lineup.
Pitching rotation: B

The Mets will have the best rotation in the division as long as
Johan Santana
is healthy. Keeping
Oliver Perez
was huge and
Mike Pelfrey
and
John Maine
are both capable of racking up double digit wins and maintaining at least a league average ERA. The only question is the fifth spot in the rotation, which could go to newcomer
Freddy Garcia
.
Along with the best rotation, the Mets should also have the best bullpen.

Omar Minaya

is hoping the signing of

Francisco Rodriguez

erases the

Billy Wagner

fiasco from the minds of Mets fans. K-Rod probably won't reach 62 saves again, but he should give the Mets some sorely needed stability in the closer role. The Mets also acquired

J.J. Putz

from Seattle to be the setup man. Putz had a dominant season for the Mariners in 2007 as a closer and if he can return to that form in 2009, the Mets might have the best 1-2 punch in the league with this bullpen
.
ODDS AND ENDS
The Mets reassigned 100-year-old Jose Valentin to their minor league camp, officially ending the era of the 'Stache.

He's no all star or anything, but it's hard to believe Fernando Tatis couldn't cut it with a major league club three out of the last five seasons.

Sorry

J.J. Putz

, but you have the worst last name in all of baseball.
Young outfielder

Daniel Murphy

, rated the #8 prospect in the major leagues by The Sporting News, looks to have cracked a spot in the Mets' starting lineup this season, probably as the team's #2 hitter.
3. Atlanta Braves
THEN AND NOW
Figures:
72-90, 4th place
.
2008 Headline:
 Hey, at least we don't have Andruw Jones anymore!
2009 Motto:
 Um... Hey, at least we don't have Andruw Jones anymore!
COMINGS AND GOINGS
Key Additions:
P
Derek Lowe
, P 
Javier Vasquez
Key Losses:
 P
John Smoltz
(to
BOS
)
,
P
Mike Hampton
(to HOU)
MARKS AND REMARKS
Lineup: C
Everything hinges on
Chipper Jones
' ability to stay healthy. After a red hot start last year, injuries took their toll and he was never the same. Jones will turn 37 during the first month of the season, so expecting him to play a full season at this point is asking quite a bit. There's plenty of unpredictability in the outfield with youngsters
B
randon Jones, Josh Anderson and Matt Diaz
all vying for spots among veterans like
Garrett Anderson
and
Jeff Francoeur
. Anderson will likely hit 10-15 homers, but he's slowing down quickly and he's a liability in the field. Francoeur used to be a guy who would do nothing but strike out a lot and hit homers. Over the last two years, he's developed into a guy who does nothing but strike out a lot. For a lineup in desperate need of guys with some pop, the Braves better hope he can get back to at least the stage where he would hit homers in addition to sucking.
Pitching rotation: B-

Atlanta did a good job of solidifying its rotation in the offseason.
Derek Lowe
is an improvement over
John Smoltz
and
Javier Vasquez
is a huge improvement over
Mike Hampton
(then again, I would be an improvement over Hampton at this point). Lowe and Hampton will be part of a formidable rotation that includes electric 23-year-old
Jair Jurrjens
, who has future ace potential, and
Tom Glavine
, who the Braves are wheeling out for one last ride hoping he has a tiny bit of gas left in the tank.
There's not a whole lot here to be excited about if you're a Braves fan. Closer

Mike Gonzalez

has never saved more than 24 games in a season and is the only left-hander in Atlanta's pen who has proved he can be effective at the major league level. Setup man

Rafael Soriano

has seemingly been a "closer in waiting" for his entire career, but hasn't ever broken through. Probably because of injures. He's already been sidelined twice this spring, once with an upper respiratory infection and now with "strained side muscle". There's talk he may begin the season on the DL
.
ODDS AND ENDS
The Braves are banking a lot on

Derek Lowe

, but don't forget that before his awesome run at the end of last season and into the playoffs for the Dodgers, most "experts" felt he hadn't exactly been living up to his contract.

Sorry Braves fans, but it has to be said -

TOM GLAVINE

IS DONE.

If "Jair" is pronounced like "Air", Mr. Jurrjens has a pretty wide variety of nicknames at his disposal.

Boone Logan

has the best goatee in baseball.
4. Florida Marlins
THEN AND NOW
Figures:
84-77
, third place.
2008 Headline:
 Goodbye Miguel Cabrera, Hello Jorge Cantu!
2009 Motto:
 At least the recession gives us a valid excuse to have the lowest payroll in baseball.
Key Additions:
P
Scott Proctor
, P
Jose Ceda
, P
Leo Nunez
Key Losses:
 CL 
Kevin Gregg
(to CHC)
, 1B 
Mike Jacobs
(to KC)
, RP 
Joe Nelson
(to TB)
, SP Scott Olsen
(to WSH)
, OF Josh Willingham
(to WSH).
MARKS AND REMARKS
Lineup: C-
Hanley Ramirez
is one of the best leadoff hitters in the game, but he has still yet to prove that he can be as effective in the 3-hole, where he will start this season for the Marlins. If Ramirez had hit his way, he'd hit leadoff forever AND there would be no team dress code. Ramirez had been hitting .077 during the spring before breaking out of his slump and going 3-for-3 with a homer and three RBIs on Sunday.
Jorge Cantu
was an admirable replacement for
Miguel Cabrera
in 2008, hitting 29 homers (a career high) with 95 RBIs. Florida will need that kind of production again this year. As usual, the Marlins hopes will rest on youngsters, specifically outfielder
Cameron Maybin
, who was one of the centerpieces of the Cabrera deal. If Maybin is finally ready for the bigs, he could provide the Marlins with somewhere in the neighborhood of 15 homers and 30 steals. There are far too many questions about this lineup heading into the season to give it any better than a C-.
Pitching rotation: C-

There is certainly potential here. This staff could either be very good or very mediocre. The loss of
Scott Olsen
will hurt.
Ricky Nolasco
(15-8, 3.52 ERA, 186 K's in 2008) has the potential to be an ace if he continues to pitch like he did last year and most importantly, stays healthy. Aside from him, there are some questions.
Josh Johnson
came back strong last year from Tommy John surgery in 2007 and will need to continue to that development as the club's No. 2 starter.
Chris Volstad
pitched well last year but didn't get much run support.
Anibal Sanchez
is young and talented, but wildly inconsistent.
As promising as Florida's rotation has the potential to be, the bullpen is just the absolute pits.

Matt Lindstrom

is tabbed to close, but a sore rotator cuff has kept him sidelined for much of the spring. Even if he is healthy, he is a risk just based on the fact that he's done next to nothing at the major league level aside from proving he can be a decent setup man.

Scott Proctor

was scheduled to be the setup man, but he will be out until May with a sore elbow. This may end up being a blessing in disguise since Proctor was awful with the Dodgers last year. Aside from them, the bullpen is filled with a lot of youngsters, no-names and questions.
ODDS AND ENDS
Andrew Miller

, along with Maybin, was the gem of the deal with Detroit for Cabrera. Inconsistency and control issues have kept Miller from the minors, but the lefty has the potential to be a dominant frontline starter. A good season from Miller would go a long way to helping the Marlins slim playoff hopes.

I hope that the Marlins keep their current uniforms when they move into a new stadium in 2011 and become the Miami Marlins. Their current uni's are some of the best in all of baseball.


Jeremy Hermida

needs to stay healthy. He's been injured each of the last three seasons. The guy has the potential to hit 30 homers someday, but that day may never come if he's finding himself on the DL every year.

5. Washington Nationals
THEN AND NOW
Figures:
5
9-102, last place
.
2008 Headline:
 Wily Mo Pena's last dance.
2009 Motto:
 No, Elijah Dukes hasn't been arrested...... yet.
COMINGS AND GOINGS
Key Additions:
 SP
Scott Olsen
, SP
Daniel Cabrera
, OF
Adam Dunn
, OF
Josh Willingham
.
Key Losses:
 IF
Aaron Boone
(to HOU), SP
Tim Redding
(to NYM),
Chad Cordero
(to SEA)
MARKS AND REMARKS
Lineup: C+
The Nationals apparently don't like to do things in moderation, so they went out and signed two more outfielders in
Adam Dunn
and
Josh Willingham
to add to the glut of them the team already had, a group that includes
Elijah Dukes
,
Lastings Milledg
e
,
Willis Harris
and
Austin Kearns
. At least we know Dukes is getting one of the 3 outfield spots, because I don't think anyone wants to piss him off. Dunn was a good pickup, but he has always struck me as one of those guys who puts up good numbers without having much of an effect on his team. Every at bat with him is either a homer, strikeout, walk or pop out. Milledge will man the leadoff spot and should continue to improve and could be a threat for 20 homers and 30 steals. If
Nick Johnson
can ever stay healthy (he won't), he can be one of the most efficient hitters in the bigs.
Pitching rotation: D-

Scott Olsen
and
John Lannan
are two solid starters, but two guys who wouldn't be an "ace" on most other clubs. Lannan is only entering his third season though and has plenty of room for improvement. Once upon a time, Olsen looked like ace material, but his production has fallen off the last few years. Particularly alarming has to be his strikeout rate. His K's have dipped each of the last three years while his workload has risen. The Nats also picked up
Daniel Cabrera
, apparently because they don't realize that he's still Daniel Cabrera. Everyone is waiting for him to break out, but at some point they're just going to have to realize that he is what he is.
Joel Hanrahan

converted 9 of 13 save chances last season. The Nats were reportedly concerned about the fact that Hanrahan's fastball, which typically floats around the mid 90s, was clocking in the high 80s at the World Baseball Classic. He is still a shoe-in to start the season as the club's closer.

Joe Beimel

was signed to be the setup man, he was very effective the past few seasons as the Dodgers' situational lefty, but I have my doubts about whether he'll be able to handle the bigger role that will be asked of him this year
.
ODDS AND ENDS
Julian Tavarez

is only here because he was apparently drunk when he signed his contract. Dunn is here because nobody else wanted him for his asking price. Dukes is here because everyone else is scared of him. What's the fans excuse?


Ryan Zimmerman

looked to be on his way to becoming an elite third baseman and then...well, last year happened. If he can return to his 2007 form, minus some of the strikeouts, he can get back on that track.

Cross your fingers and pray that Dmitri Young makes the Nats 40-man roster. I'd hate to see the era of "Da Meat Hook" end prematurely.

UPDATE: Dmitri apparently just read this blog, because I just received in e-mail from him wanting to pass along a message to our readers, saying he will "whoop the shit" out of anyone who believes he won't make the Nats 4o-man. Consider the message delivered.